Australia

Marriage Records

Searching for Marriage Records in Australia
There are many cases in which finding marriage records can be important. These reasons can range from building a family tree to much more personal reasons. Whatever the reason may be for finding marriage records, there are a number of ways to go about it in Australia. There are a number of extremely helpful directories and registries available for you to use. The ones that should be checked also vary depending on the state. Here are the available registries for each state.

Australian Capital Territory
In the A.C.T. it is the Office of Regulatory Services that holds the marriage records. These marriage records are much more accessible for marriages that occurred at least 75 years ago. Nonetheless you can still call the office to find out more information.

New South Wales
The New South Wales Registry of Births, Deaths and Marriages are the ones to contact in New South Wales. In New South Wales there are both restricted records and unrestricted records. Unrestricted records are available for marriages that occurred 50 years ago or more.

Northern Territory
In the Northern Territory, the people that should be contacted for marriage records are the Department of Attorney-General and Justice. The policy in the Northern Territory is that marriage certificates and information are not released to anyone until 60 years has passed after the marriage.

Queensland
In Queensland, and Queensland Government holds the information for marriages. The Queensland government website is extremely helpful in the department of marriage records, and has records of marriages up to 1937 on their website. Otherwise, you can contact them for marriage records 75 or more years ago.

South Australia
In South Australia, you should contact the Consumer and Business Services for marriage records. They have a database on their website, and you can access marriage records at least 60 years old.

Tasmania
In Tasmania, it is the department of Justice who should be contacted for marriage records. Access to marriage records is available to anyone 75 years after the marriage. There are a number of resources available on their website.

Victoria
In Victoria, you should contact the Victorian Department of Justice. They have access to their registries on their website, with marriage records being available up to 60 years ago.

Western Australia
In Western Australia, you should contact the Department of the Attorney General for marriage records. You can search their records online and marriages are available from 75 or more years ago.

Click on the region of the map that you are searching for marriage records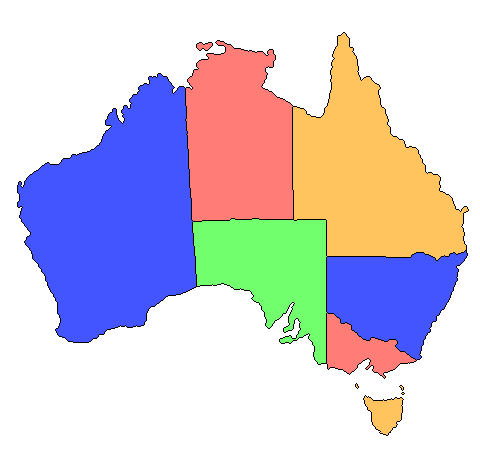 Advertising Disclosure: This post may contain promotional links. AustraliaPublicRecord.com may be compensated if you use these links.